Bathroom remodeling is a major undertaking, but it's one that can make your house more attractive to potential buyers. That said, it can also be costly.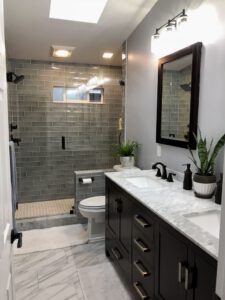 When assessing your bathroom remodel budget, don't forget to include a contingency for unexpected costs. Those costs may include things like mold abatement and plumbing work that weren't covered in your original estimate. To make sure that your expenses are worth it, contact J&R Construction for professional expertise.
If you're considering a bathroom remodel, it's important to create a budget as early as possible. This will help you determine how much money you have to spend on the project and keep your expectations realistic.
The scope of the project will also affect your bathroom remodeling budget. A low-end refresh (a new shower head, a fresh coat of paint) may only cost a few hundred dollars, while a major remodel that changes the layout or adds features like a walk-in tub and separate toilet room can push your budget well beyond what you expected to spend.
There are many factors that can influence the final costs of a bathroom remodel, but two main considerations are materials and labor. The latter is largely dependent on location, and it accounts for 40% to 60% of the overall project costs.
Materials for your new bathroom can include sinks, faucets, tile and flooring options, shower doors, tubs, and tub and shower enclosures. Ceramic, porcelain, and natural stone are popular choices for floor and wall tiles.
Choosing fixtures is one of the most important decisions you'll make when remodeling a bathroom. Replacing old fixtures can make a big difference in the appearance of your bathroom and increase its value.
You can purchase new fixtures at home stores, specialty retailers, and online. The cost of fixtures varies widely, but it's worth the extra effort to find a quality option that fits your budget.
Plumbing is another expensive part of a bathroom remodel. Plumbers can charge as much as $65.50 an hour, but it's best to hire a general contractor who can help you with all aspects of the project.
Electrical work is also an expense that should be factored in. Installing a new ceiling fan, replacing a lighting fixture, and rewiring your electrical system can all add up to hundreds of dollars.
Finally, you should consider mold abatement as part of your bathroom remodel. Small pipe leaks can go undetected for a long time, allowing mold to take hold and grow. A mold abatement professional can remove the mold and repair any damage that it causes.
One of the most important aspects of a bathroom remodel is the design. Whether you are remodeling to improve the comfort and functionality of your home or because it is outdated, good design will make or break the project.
The first step in any remodel is to decide the layout of your bathroom and determine what materials will be used. This will help you avoid costly mistakes. It will also ensure that you are happy with your final results.
Another factor to consider when planning a remodel is safety. The bathroom is a room where water and electricity are present, so it is crucial to choose fixtures that won't cause accidents or fires. Installing ground fault circuit interrupter (GFCI) outlets with auto-shutoff snaps, textured flooring, and a bathtub or shower that incorporates slip-resistant materials are all ways to prevent potential injuries.
In addition, you should pay attention to the lighting in your bathroom. While it may seem like a minor factor, adequate lighting is critical for making the space practical and safe.
A bathroom can become very dingy or dangerous when it doesn't have sufficient light. This can be caused by a number of factors, including a lack of ceiling lights and poor lighting in corners or under sinks.
There are several types of bathroom lighting available, including overhead, under-cabinet, and wall-mounted options. The right lighting can make the room feel more comfortable and inviting.
The bathroom is also a popular area for adding new accessories to the room. This can include soap dishes, mirrors, towels, and other essentials that you will use each day.